Waterproof Flooring: More Options, Fewer Hassles
Imagine installing adorable floors within your home or office and not having to worry about water damage or potential moisture? This is precisely what you get with waterproof flooring-great looking floors that also repel stains and spills.
Currently, waterproofing is one of the fastest growing trends in the flooring market. And thanks to contemporary innovations, we are now offering more options than previously available, all tailored to suit your needs. To guide you through some options, here are some of the most popular available:
1. Waterproof Laminate Flooring
Currently, laminate flooring is among the most popular choices in the industry, and it is easy to see why. Not only is it durable, but it is also resistant and affordable.
Why Choose Waterproof Laminate Flooring:
Although it is still a relatively new phenomenon in the flooring sector, waterproof flooring provides numerous benefits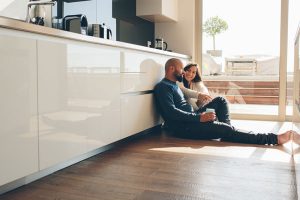 which rank it high above traditional flooring options especially in areas prone to leaks or spills. Water flooring features an extruded and dense waterproof floor that affords it an exclusive balance of resilience and strength. And besides being completely waterproof, as well as not swelling or delaminating on exposure to spills or moisture, water flooring is also an excellent option for you because it is:
• Resilient
This unique type of flooring easily resists stains, dents, and scratches. It features an impermeable vinyl backing consequently laid with an adhesive (waterproof of course) to shield against penetration of water. Owing to its unique structure, it is a better option compared to traditional flooring used in regions susceptible to spills like wood, tile, and laminate.
• Easy to clean
Waterproof floors comprise no dirt traps or grime which makes it remarkably easy to clean. They can effectively mimic your favorite floor's look including tile and wood but have no space for intrusions between their planks.
• Cost effective
With proper care and maintenance, they can offer you long-term value courtesy of their distinctive vital protection and durability.
While being mindful of washing up leaks and spills within considerable time is in itself smart, buying waterproof floors can ensure less work for you and longer-lasting quality. By going for the right waterproof flooring, you not only benefit from the aesthetic appeal of any hard surface of your choice but also enjoy unmatched durability as well as an assortment of options to pick from. Also check out our assortment of high quality linoleum products.
If you are yet to shift to waterproof flooring, what are you still waiting for?
Contact us today!