When you are faced with the prospect of new floors in your house, the sheer number of options available can be overwhelming. While it's probably true that you know what you don't want, there are still lots of choices available for you.
Laminate flooring is among the most widely used flooring choices for several reasons:
1. Extremely Durable
Thanks to the multi-layer construction that laminate flooring features, it is highly resistant to stains, heavy traffic and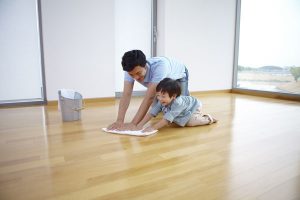 wear. This makes it an excellent choice for people who've got pets, kids and generally active homes.
Thanks to its durability, it can be used in areas that experience the most traffic for instance, kitchen, hallways, and bathrooms and even in the living room. Laminate flooring comes in various performance levels, and these include commercial floors.
You can purchase a good laminate floor to last you a lifetime! However, as to how long it can last, this depends on the product that you choose, how you care for it and even the amount of wear it is subjected to it over the course of its lifetime.
Laminate flooring is extremely durable and can resist stains, indentations and scratches better compared to more flooring types.
2. Easy to Install
Another good thing with laminate flooring is that installing this type of flooring is not lengthy, which implies minimal renovation disruption. If you have ever been involved in a home renovation work, you know that one of the most difficult parts is the constant commotion brought about by the ongoing construction projects. Installing laminate flooring is fairly quick and easy especially if you hire a professional team to do it.
3. Versatility
The beauty with laminate flooring is that it can be installed just about anywhere in the home, It works wonders in kitchens, bathrooms, foyers, mudrooms, dining rooms, family rooms, bedrooms and dining rooms.
4. Suitable for homes with pets
This type of flooring is excellent for households that have pets. This is because it is highly durable and has been made in such a way that it can withstand scuffs and scratches. As a precaution however, it's advisable to keep your cat's or dog's nails short and wipe away any messes immediately they happen.
5. It resembles wood
Laminate flooring can resemble not just the natural wood but also ceramic, stone, and even unexpected materials such as metal or concrete. And the realism is not just possible because of the photographic image laminated on the design layer, rather it's also the embossing techniques used to create a texture and visual that are very consistent with each other.
Embossing techniques make the texture, depth and the natural floor color more intensified, and also accentuates the design (more so when light has been reflected off the surface). Also, embossing allows for precise detailing and micro-grout lines detailing.
Thanks to embossing, it's also possible to achieve wire-brushed styles or rustic hand-scraped styles that appear as reclaimed word, weather-torn seawall or pitted concrete.
Laminate flooring is an affordable and more practical alternative to natural flooring, and can offer similar results. Easy to clean and versatile, it is a top choice for both residential and commercial flooring needs. You can also see our linoleum,  carpet options here.